Catch me harpin' away and playin' some of them there original tunes that I do, at "The Free Times Cafe" this Tuesday, September 22 from 8-10pm.  Glen Hornblast's popular event "Nashville Bound" invites you all to come enjoy six artist's in the round!
I am on the bill alongside Nicole 'Songbird' Coward so expect us to be weaving in and out of each others tunes! Dean Cavill will add some tasteful slide Dobro  I am sure, as well as treat us to his own tunes!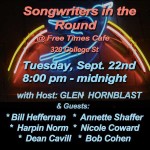 Then there is the delightful Bill Heffernan, with his stories and songs, the energetic Annette Shaffer and that great guy and guitar player Bob Cohen …..oh, and I am sure Glen Hornblast will grace us with a few of his sweet tunes to round out the evening!Bring a friend! Have a beer…or have dinner and make an evening of it!This is a great place to actually listen to music so come prepared to actually soak in the tunes! 🙂
Harpin' @ Yah!!!